Our multi-level formats are taught in both heated and unheated environments in our picturesque, breathtaking yoga studio. Our expert yoga and fitness instructors will guide you through practices that help you cultivate a stronger, leaner body and more balanced life. Our yoga community is built on human connection and the power we gain when we breathe and move together. 
Meet Your Fitness Goals Today
We offer classes and instruction in techniques that we truly believe in, and have seen work for ourselves and our clients. We focus on relationship building with our clients, and offer a community of support and acceptance. We keep our classes small in order to give you the individualized attention you deserve.
YOGA
At LAC, we hope to help you align with YOU. Our yoga classes are focused on feeling good and connecting with yourself at a deeper level on and off your mat. All of our beautiful teachers brings a unique perspective to their teaching, and classes are geared toward yogis at all levels in their practice.
PILATES
LAC pilates classes offer detailed instruction for students who wish to strengthen and tone their bodies through this incredibly beneficial practice. Our small class sizes and engaged instructors are dedicated to guiding you toward your strongest, most connected self. We have class options to accommodate Pilates students from beginner to experienced.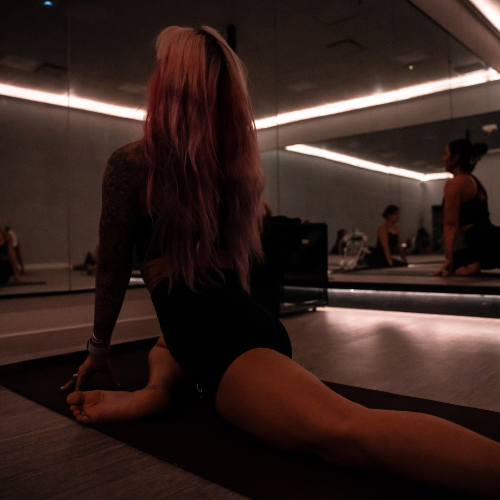 EXPERIENCE THE HEAT
HOT
Hot Yoga is a complete system of wellness, restoration and rejuvenation. Bringing hot yoga into your life cleanses the body and calms the mind. The studio is HOT (over 100 degrees) to facilitate deeper stretching, prevent injury, relieve stress and tension and to detoxify the body.
Our hot yoga was designed to systematically stimulate and restore health to every muscle, joint and organ of the body.  Participants of all ages notice an increase in energy, strength, balance, flexibility and mental focus. 
The body is flushed of toxins, leaving a deep sense of relaxation and well-being.
CHECK OUT OUR MEMBERSHIPS
Strength + Conditioning
Heated Power Yoga
Heated Yoga sculpt
Foundational Yoga Flow
Cycle